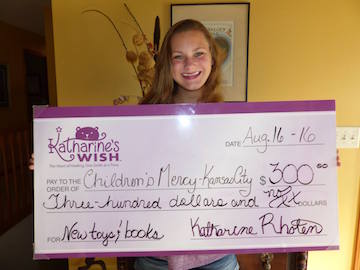 History
Katharine's Wish Mission: Providing new toys and books to children receiving medical care.
Our Story: "Katharine's Wish" is a promise kept by 17-year old Katharine "Katie" Rhoten of Eau Claire, WI. In January of 2008, Katie was at Disney World when she was rushed by ambulance to the ICU at Children's Hospital in Orlando, FL. She was diagnosed with type 1 diabetes and hours from going into a coma. The hospital was a very scary place for the then 9 year-old. There were lots of IV's, insulin shots, finger pokes to test her blood sugar levels, along with a crash course in learning how to manage a chronic disease.
However, the pain of this experience was lessened, because each time Katie had a poke or procedure, she was given a stuffed animal to ease the pain and distract her. She vowed, while still in her ICU hospital bed, that when she was better, she would help other children who were sick and scared. She has kept her word. Since 2008, Katharine's Wish has raised nearly $50,000 and donated over 20,000 new toys, stuffed animals and books to hospitals for children receiving medical care.
In July 2012, Katie became the youngest member in the Eau Claire Community Foundation's history to create a donor-advised fund to issue grants to hospitals across the U.S. to purchase items of comfort for children receiving medical care. She did this in order to expand her efforts in helping more children. By the end of 2016 Katie will reach her goal to have Katharine's Wish touch the lives of children in all 50 states and the Distrcit of Columbia.
Katie is a senior at Memorial High School in Eau Claire. In addition to Katharine's Wish, she is a competitive dancer who has competed and performed on various national stages, including Broadway. She is a member of the straight "A" honor roll, Student Council and varsity dance team.
In addition, Katie is a Daily Point of Light Honoree, a recipient of the "President's Volunteer Service Award", Distinguished Finalist in the "Prudential Spirit of Community Award", 2014 National SemiFinalist USA Today "Most Inspirational Athlete" and Peace First Prize.